Synthogy is a Massachusetts-based audio software company founded by George Taylor and Joe Ierardi who are former engineers for Kurzweil Music Systems. The duo teamed up to combine over 35 years of design experience in synthesizers, musical instruments, effects, and sound design, and unleash it in the form of software instruments comparable to Gigastudio.

Synthogy's first product, Ivory, is a groundbreaking Grand Piano software instrument that features stunning samples taken from Steinway D, Bosendorfer 290 and Yamaha C7 Grand Pianos. This multi-platform plug-in is powered by Synthogy's custom sample playback and DSP engine.

Ivory is the largest, most skillfully designed Grand Piano virtual instrument built yet, with over 3,500 samples combined into a sample-playback engine that was built from the ground up to bring out the resonance, response and character of the world's finest Concert Grands.





Ivory's insanely great piano samples were recorded in some of the top studios and concert halls. Then the sessions were polished up and producing by accomplished pianist and award winning sound designer Joe Ierardi, formerly of Kurzweil Music Systems.

"Joe Ierardi is a very important talent in the creation of musical sound. Piano sounds have been the hallmark of Kurzweil Music products for many years, and his sound design is second to none," says Raymond Kurzweil. "He has more experience in this area than anyone in the industry that I can think of."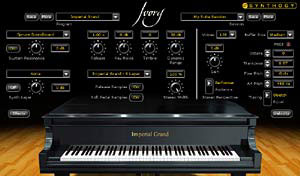 SEARCH AUDIOHEAD.NET


Are you a Sound Junkie?

If you would like to be updated when Audiohead.net is updated, please click the link below and sign up now:

(Audiohead.net will not share your info with anyone)

Make me a junkie!

Synthogy's Ivory
(click the image below to purchase Ivory)



Three Glorious Grands in one multi-platform sample-based Virtual Instrument, featuring:

20GB of stunningly recorded acoustic Grand Piano samples of German Steinway D 9' Concert Grand, Bosendorfer 290 Imperial Grand, and Yamaha C7 Grand. (Each piano has up to 8 stereo dynamic levels with real release and soft pedal samples)

Powerful custom 32-bit sample playback and DSP engine

Sympathetic String Resonance

DSP for realistic damper pedal response

World-class digital FX including ambience, chorusing and EQ.

User controls for timbre, stereo width and perspective, velocity response, mechanical key noise, tuning and more

Synth pad layering for creating modern sounds

Control over resource usage for optimum CPU performance

Supports VST, RTAS, and Audio Units



Download an Ivory information sheet (.pdf file) by clicking here, or click the button in the upper right of this page to be notified when Synthogy starts shipping.