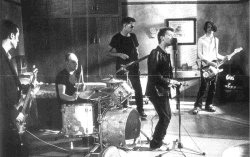 Radiohead broke onto the scene with the hit single "Creep" in 1993, and followed it up with "Pablo Honey," "The Bends" and "OK Computer," all of which received spectacular reviews and won the band a Grammy Award in 1998. Then, in 2000, Radiohead achieved the improbable: its release of "Kid A" hit #1 in the Billboard charts.

Yet, when the band went to record 'Amnesiac,' it followed up these previous releases by moving away from its former style of guitar-based music, to an electronically dominated sound — almost completely free of guitars. For this, the band and producer Nigel Godrich, turned to the Mac and several different software apps to come up with a completely new original sound.

Pro Tools and Logic Audio
"We mainly used Digidesign's Digidesign's Pro Tools for editing and manipulating audio," says Godrich. "We also used Steinberg's Steinberg's Cubase for MIDI sequencing but recently switched to Emagic's Emagic's Logic Audio, which is slightly more interesting.

"Pro Tools is an industry standard and has been for years," says Godrich. "It has very reliable hardware and of course, our set up is Mac based. But Logic is an astounding piece of software. It's almost too powerful!"





Logic Audio on the Tour Bus
When Radiohead goes on tour, it's imperative that the band can still capture its creativity on the road. "We have recently done a bit of recording on the road using a Mac running Logic Audio as a multitrack recorder. It's been great! But the method is still work in progress for us," says Godrich.

"There is some kind of sound generation or digital editing or arrangement on every track of the 'Kid A' and 'Amnesiac' albums. Some more than others, as you can probably tell," he says. "We mainly used the Mac as an instrument to create new sounds or treat things to make new sounds rather than using it as a multitrack device."




Radiohead

| | |
| --- | --- |
| | |