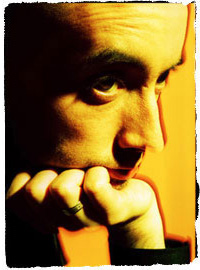 "The special thing about the Synthi was the sequencer is digital," shouts a smiling Jack Dangers over the thumping, throbbing sounds of his Synthi 100. "So you can program a lot of MIDI information, clock that sequence into Logic and get a perfect synch." He stands up to tweak the sounds live, using its top-mounted dual mod controls.

An Englishman from Swindon (the same small town as XTC), Dangers moved to Marin in 1994 and set up Tapelab, a recording studio where he now works on his recording, producing and remix projects, including Meat Beat Manifesto and — most recently — Tino Corp. "I was doing a lot of work with bands over here — like Consolidated, Disposable Heroes of Hiphoprisy, Public Enemy — so I moved,"

Looking like something straight out of an old Dr. Who episode, this 1970s machine is one of only 29 ever made, and one of only a few known to still function. The 600-lb. room-sized contraption required eight people to maneuver it through the window of Tapelab. The Synthi 100 is one serious piece of furniture. Set up like an old mixing desk with eight buses and XLR inputs, it even has cabinets built in, perhaps for all the manuals you'll need to learn the ins and outs of its countless functions. he says.

Secrets From Yesteryear
Some of Dangers' synths are so old, they have battleship-looking boards with pins, rather than cable connectors, to, for instance, trigger certain filter effects combined with a particular sound wave form. So Dangers has to take extensive notes on the knob positions and pin positions that he uses to achieve a certain sound.

Then he shows me a class note book that came with his rare Synthi 100. When asked if that's where he keeps his notes, he nods, grins and then points out that he also is actively stealing the ideas of the poor students who experimented on the old Synthi and carelessly left their secret formulas for his exploitation.




Heavy Breaks
In 1986, Dangers was in a band called Perennial Divide, produced by Andy Partridge of XTC. "Andy Partridge is the only true musical genius I've ever met," says Dangers. "Lyrically, he's incredible. I had so many questions to ask him. He's such a nice guy, so level. He was very open minded."

Soon after, Dangers carved the path for dub electronica when he decided to mix heavy breaks with experimental sound, as the songwriting leader behind industrial performance art brigade Meat Beat Manifesto. Dangers' music forecast a new generation of electronic music.

Now he's been labeled the "überlord of breakbeat." "I like dub, so there's usually an element of old hip hop mood in my music," he says. "There's a lot of underground stuff that's good, these days. Most of it is in the Bay Area. Like DJ Shadow and Future Primitive Sound.

"But my favorite type of music is classical avante garde music from the 50s and 60s. I listen to it every day," he says. "Finding these old things that were ignored 20-30 years ago, and were written in very primitive situations. Back then you really had to work for your sound."

More Vintage Than Vintage
Sonics from the Synthi 100 are all over Danger's new album, "R.U.O.K.?" In addition to the Synthi 100, Dangers uses a lot of wacky and extremely rare and old outboard gear triggered by MIDI arrangements in the computer.


| | |
| --- | --- |
| | With vintage gear, remembering how to make a certain sound is a lot tougher than just saving a template song arrangement or sound design file. "Instead of cables, you use pins," he says. "So it's very tidy and sophisticated." He takes extensive notes on knob and pin positions. |


Songwriting By Experiment
When Dangers creates, it usually starts with a beat, hammered into the Mac via MIDI. "It's not a musical thing you're sending, but you're turning it into music. Or, recording passages and then editing them. It's definitely experimental," he says.

"I've always had a sense of rhythm," says Dangers, "I started on the bass guitar. I think the guitar has too many strings. I've been playing the bass for 22 years now," he says. "So I use the guitar more as a sound instrument, really. I run ball bearings against it and such."


Next page: Meat Beat Manifesto Returns
| | |
| --- | --- |
| | Jack Dangers |
| | |
| --- | --- |
| | Tools of the Trade |
Jack Dangers' Toolkit
(Part 1 of 2)

Dangers bought a Mac when he first moved to the U.S. "I never looked back," says the beatsmith, who now works from both a Power Mac and a PowerBook. "I use Logic Audio and I use the TDM plugins running off of the Pro Tools hardware in Logic."

"Logic is definitely the best sequencer around. Some people started out on StudioVision and moved over to Pro Tools, but I've always been a Logic user," he says. "I use Logic because it's a lot quicker, more intuitive and it's faster."

"Yet it's a dense program," he adds. "I've been using Logic for eight years now, but there's a whole world in there I'm purposefully keeping away from until a rainy Sunday afternoon."

When it comes to recording, Dangers uses Pro Tools 888s for A/D conversion, and records everything at 16-bit/44.1kHz. When he's done with his tracks, he runs them through Lexicon mastering hardware to sweeten the sound of the overall mix. Dangers uses Genelec 1031A monitors, sans subwoofer. "It's good to have them close to the wall, because you get a good bottom end without having to supplement it," he says.

Although he's been hesitant to embrace virtual synths and samplers, he's contemplating some of the Native Instruments stuff. "I want to get Battery and Reaktor and mess around with those," he says. "And I'm thinking of getting a Logic Control.

"But right now I use Recycle so I can replay slices on the keyboard, and reprogram it in the AKAI," he adds.

Continued on next page

| | |
| --- | --- |
| | Music Links |