"Producing, for me, has become very psychological," says Butch Vig, the legendary music producer, also the drummer and mastermind behind Garbage. "It has to do with understanding what the artist's vision is, and then doing whatever it takes to make the music really focused."

The world of music discovered Butch Vig when he stepped out of his hometown of Viroqua, WI, to produce the breakthrough Nirvana album, "Nevermind" on Geffen Records. It further recognized him for his talent when he produced Smashing Pumpkins' "Siamese Dream,"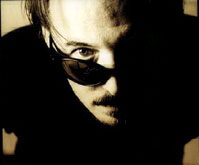 as well as the finesse he brought to remixes for U2, Depeche Mode, and Beck.

Years later, he's still producing. "I just finished remixing a Limp Bizkit song, "Nookie," for their upcoming 'New Old Songs' album," says Butch. "I basically stripped everything out except Fred's vocals and started rebuilding it from the ground up."

Butch got his initial taste for producing music while studying film at the University of Wisconsin. "I started getting into editing and manipulating sound while working on editing film soundtracks," he says."Then I started recording local punk bands. That's where I got hooked up with Subpop Records." This legendary Seattle label heralded in the Seattle grunge era with classic acts like Nirvana and Soundgarden.

No Ordinary Trash Band
But by 1994, Butch felt burned out by traditional rock producing and decided to put together a band with his remixing partners, Steve Marker and Duke Erikson, from his home Smart Studios. "I wanted to move away from the traditional live approach," he says. "It was very liberating to be able to use computers to do music and remixes."




Butch worked with Duke and Steve to produce a new sound using Akai samplers, a Kurzweil keyboard and a Mac SE. After seeing and hearing the Scottish-born Shirley Manson sing in a music video with her old band, Angel Fish, on MTV, the trio secured her to sing for the new project, Garbage.

The band's debut single, "Vow," took off, and Garbage subsequently received acclaim for its self-titled debut album in 1996, its follow-up Version 2.0 in 1998, and "Beautifulgarbage," released in 2001.

Macs and Pro Tools Behind Garbage Sound
When it comes to working on music, Butch runs Pro Tools on a Mac. "I've used the Macintosh for years," says Vig. "All in all, we've got about 15 Macs behind Garbage alone." The Garbage Mac collection includes several Power Macs and PowerBooks, plus a couple iMacs.





Next page: Pro Tools and Logic in the Studio
| | |
| --- | --- |
| | Butch Vig |