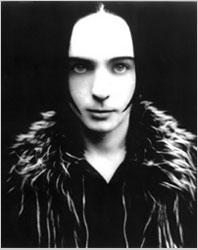 Chris Vrenna's home studio is a place where many things happen— games, records, film scores —you name it. On this particular day, the Grammy-winning songwriter, composer, drummer, programmer, engineer, remixer and producer is working on one of three games scores he's currently enlisted to compose. "Today, it's Tabula Rasa," says Vrenna, who has produced and composed music for games like American McGee's Alice, Enter The Matrix, and Quake (while with NIN). And he's got Area 51 for Midway, The Sims 2 for EA, and Tabula Rasa for NCSoft coming right up.

Not only has Vrenna scored and remixed for film and video games, but he's produced, engineered and done remixes for David Bowie, U2, the Smashing Pumpkins, Marilyn Manson, Green Day, the Wallflowers and Nine Inch Nails — for whom he was also the original drummer.




A New Fix For Tweaker Fans
Vrenna released his second Tweaker record on April 20, 2004. The project took just a year to make. The new record, " 2 a.m. wakeup call," has 12 songs—eight with vocals and four instrumentals. "I went more for songs than just weird instrumentals this time," says Vrenna. "The songs are a lot more organic sounding as well. I got tired of the weird little noises and stuff and I actually played drums this time." The release also features guest vocals from Robert Smith of the Cure, Will Oldham and David Sylvian.

Vrenna and co-producer Clint Walsh produced the new Tweaker album at Vrenna's home studio. Vrenna played a jazz kit and recorded the drums in his drum room, which is just slightly more than arm's length from his Pro Tools-rigged studio.

Recording Drums
Having the kit set up in his home studio made recording much easier than it would have been at an outside studio because Vrenna could leave the mics set up and work at his leisure. "I just left them permanently mic'd up and I had a recall sheet for all the pre's and stuff so it was pretty easy to patch up what I needed at the time," he explains. "That's the beauty of homemade records."

The new Tweaker record varies in its track-per-song count. "The songs range from as few as 24 tracks per song to...so many that auto-voicing wouldn't work, so that would mean over 64," says Vrenna. "A couple of them got pretty big by the end. But I tried to make it pretty stripped down."

A Tannoy Boy
When it comes to listening to his mixes, Vrenna uses Tannoy 800A monitors, sans subwoofer. "I really like not using a subwoofer-based system anymore. It was always messing up my mixes," he says. "For project studio people in small rooms — like we all are — I think it's better to go without a subwoofer.




"People get these hyped-up, subwoofer-based systems and sure you can hear your 808 really big and all. But you get fooled, and when you take your mixes out and they sound like AM radio," he adds. "And you're like, 'What happened? It was so huge!'" So, for here — which is a small space — I don't use the subs."

Real and Virtual Instruments
While recording "2 a.m. wakeup call," Vrenna used some virtual synths, lots of outboard synths, live drums, a live acoustic guitar, a six-string Taylor and a nylon string guitar, plus he borrowed a couple of 12-strings from some friends for a couple parts. There is a lot of live bass on the record as well. "We used a five-string Fender jazz deluxe, which is a really good-sounding solid instrument, and it was all recorded through the Line 6 Bass Pod," says Vrenna. "We did some direct stuff with the guitar, but we used the Mesa Boogie Triaxis. That one is pretty awesome for direct I/O.

"We wanted to do different stuff for this album, so we set up all the amps in the drum room and baffled them off into little combos—no stacks—but lots of little vintage combos and such," he adds. "We had a Supra for a while that we borrowed, a SilverTone and a couple of baby amps—you know, those $29 battery amps? They've got the power to drive a cab in there!"

Vrenna attests that his favorite instrument of all time is the glokenspiel, which not so coincidentally shows up on two songs. "It would have been more, but Clint kept saying to me, 'Noooooo....'" he jokes. Vrenna even rented a really nice orchestral glokenspiel for the recording.


Next page: For the Love of Hardware
| | |
| --- | --- |
| | Chris Vrenna |

Studio Tools
(Part 1 of 3)

Macs, Pro Tools and Line 6
Things are very organized around Vrenna's studio. All the essential hardware and synths are within reach, and the drum room is just around the corner. At the center of the studio is the essential Pro Tools rig stocked with four 888 A-D converters and multiple Line 6 Amp Farm cards—all running through a 933mHz Power Mac G4 tower. "I'm getting another Mix Farm in there soon because I'm doing everything else via FireWire," he says.

"Three of the 888's are just digital pipelines and the fourth one is hooked up with XLRs for inserts so I can use all the outboard compressors and stuff," explains Vrenna.

He adds, "I'll send through a bus compressor, and send that back in through the Apogee Rosetta into Pro Tools and I print it to lock back to the session's final mix." He mentions that he's thinking of upgrading to the Rosetta 800 soon — the 8-channel version.

Continued on next page